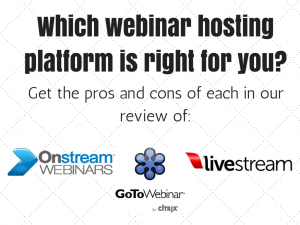 Creating and marketing a great webinar is tough. Choosing a webinar hosting platform shouldn't be.
That's why we've researched the top-selling webinar hosting platforms on the Internet and compiled this handy list of pros and cons for each.
We reviewed each application and evaluated the following:
Cost and value for the money
User-friendliness
Tech support and tutorials
Video streaming options
Integration with social media and other websites
Webinar marketing assistance
While researching the best webinar hosting platforms, we looked at GoToWebinar, Onstream Webinars, Livestream, Google Hangouts + LeadPages, Adobe Connect, ClickWebinar, and MegaMeeting.
And the winners are….      Read more about Webinar Hosting Reviews: Pros and cons of GoToWebinar, Livestream, and OnStream Webinars